Kostas Tsiaras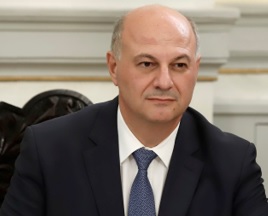 Kostas Tsiaras was born in Karditsa in 1966.
He is a Medical Doctor, Microbiologist-Biopathologist with a PhD from Athens University Medical School, with post-graduate studies in in-vitro fertilization at Swedish university centers.
In 2004 he was elected for the first time as a New Democracy Member of Parliament for Karditsa.
He was re-elected in 2007, 2009, 2012, 2015 and 2019.
From July 2012 to June 2013 he was appointed Deputy Foreign Minister.
In July 2013 he was elected Chairman of the Standing Committee on Defense and Foreign Affairs of the Hellenic Parliament.
In January 2016 he was elected General Secretary of the Parliamentary Group of New Democracy.
In July 2019 he was appointed Minister of Justice.
He is married to Aggeliki Stergiouli, molecular biologist, and they have a son and two daughters.